Happy Friday! It really is a happy Friday, this week has been so fun, but no doubt incredibly exhausting! My plans are to rest this weekend - call me lame, I'll agree.
Anyways did you know that on this day in 1952 the first "Don't Walk" sign was installed in New York City . The installation of this sign was inspired by the growing number of deaths resulting from pedestrian accidents. The use of these pedestrian traffic signs are still used today in order to make streets safer.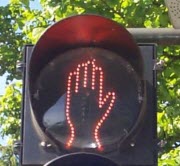 Thank you
little orange hand
, you have saved many lives. I plan on walking (or doing anything) as little as possible this weekend, hope you enjoy yours as much as I will mine!
Until next time,
Brit